BENEFITS OF THE FIT BALL
By: AP On: 4 January 2019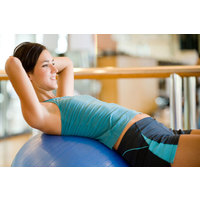 BENEFITS OF THE FIT BALL
BENEFITS OF THE FIT BALL
Usually associated with yoga, the fitball or stability ball can be used within your daily workout. Although the primary use of the fitball is to help improve balance, it is now being used within gyms to help improve your overall workout.
Core Training
The fitball is designed to help improve the core muscle groups which include the lower back, thighs and hips. To do this it helps improve your over all balance, strength, posture, weight distribution and coordination. With the round design of the fitball it may seem hard to believe that it can have so many benefits; However you can improve your overall core just by sitting on the ball, as it forces you to sit correctly and improve your balance.
Working Out
When it comes to exercise you should think of the ball as a weight bench, as you can use the ball to lean or sit on while you perform strength exercises. Keep in mind that it is a ball and can slip from under you or pop if it's put under too much pressure. The fit ball can also be used to perform crunches, squats and push ups. By using the fitball to perform these exercises you are also strengthing your core and improving your balance.
Pregnancy
Exercising while pregnant is important for both the health of the mother as well as the baby. The fit ball is commonly used within birthing classes and is recommended to be used through pregnancy. One reason for this is it can help woman perform certain exercises which can be made impossible due to their movement restrictions. As the fitball helps improve your overall core, back and balance it can help improve back pain experienced with pregnancy.
Fitquip has a variety of fitball's that can be purchased in store or online.
Team Fitquip
---
Leave a comment