BENEFITS OF THE MEDICINE BALL
By: AP On: 4 January 2019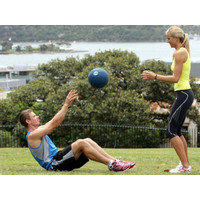 BENEFITS OF THE MEDICINE BALL
BENEFITS OF THE MEDICINE BALL
The medicine ball is a weighted rubber ball that is used for strength exercises. Designs can vary between medicine balls as some can bounce and some have handles. The purpose of the medicine ball is to improve strength, power, balance and stability.
Benefits
Medicine balls come in a variety of seizes and a round ball shape, which makes them easy to use when working out. They are great for improving bone density and developing quick muscle reflexes or explosive power. Explosive power is when the ball is quickly passed from one user to the other, which means your primary muscles are forced to contract quickly. This is an advanced exercise which is used by athletes to gain quick reflexes. The medicine ball can also be used within your strength routine and can be used to perform some dumbbellexercises.
Easy to Lift
It is important to improve your overall strength and because the medicine ball is round in shape it can make some exercises easier. An example of this is instead of lunging while holding 2 dumbbells you can hold a medicine ball. You can also use the medicine ball to throw a small distance in the air and catch it to help improve bone density.
More Movement
The medicine ball does not limit you to one group of muscle movements, which means you are able to target a larger range of muscles in one go. You are able to do this because you're not restricted in movement unlike some strength machines. Most medicine ball routines are based on repetition, swinging, rotating and throwing movements which you are unable to do using some strength equipment.
Fitquip has a variety of medicine balls that can be purchased in store or online.
Team Fitquip
---
Leave a comment