WINTER MOTIVATION
By: AP On: 4 January 2019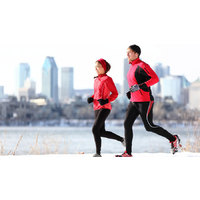 WINTER MOTIVATION
WINTER MOTIVATION
Winter is coming thick and fast, which means our beds are looking better then ever! But don't let the cold weather stop you from achieving your fitness goals!
GLASS HALF FULL
The days are getting shorter and the nights are getting colder, which can cause the best of us to ditch our new years goals. But don't let your excuses get the better of you and ruin all of your progress. Instead think of this as an opportunity to get a head start on your bikini bodies. Remember the first few workouts are the hardest. Once you're in the rhythm, you don't even have to prep yourself to workout. You'll just do it.
WINTER CRAVINGS
When it's cold and raining, warm comfort food seems like the perfect idea. But most of these comfort foods lack nutrition and can affect your energy levels, causing mood swings and cause rapid weight gain. To prevent this, avoid eating refined and processed foods. Instead eat complex carbohydrates, fruit, vegetables and drink plenty of water. This will keep you more energised and motivated throughout your day.
NO EXCUSES
If you usually workout outside in summer then winter can defiantly put a stop to your usual routine. But by investing in exercise equipment at home it prevents you from having an excuse not to exercise. Create weekly workout routines to follow so when workout you don't have to think about it, you can just do it.
ALLOW FOR SET BACKS
Whether you run, lift weights, or do general exercise, there is no denying there will be set backs. When it happens there is no point stressing over it, because stress never helps anything. Instead figure out why you hit that set back and how you can try and avoid it next time.
APPRECIATION
You need to remember to celebrate achieving your goals, big or small. Once you have realised the hardest points of training you will find you can achieve your goals more effectively.
We hope you find some inspiration and wish you the best of luck with your fitness goals.
Team Fitquip
---
Leave a comment