TIPS TO MAKE YOU A MORNING PERSON
By: AP On: 4 January 2019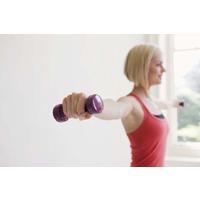 TIPS TO MAKE YOU A MORNING PERSON
TIPS TO MAKE YOU A MORNING PERSON
Getting into a workout routine can be tricky if you're not a morning person, lack motivation or short for time. But if your only option is to workout in the early hours of the morning then here are some tips to get you up and motivated.
1. Schedule a Specific Time
If you're serious about getting into a routine then set a specific time and day for each workout. Don't just say "I'll workout tomorrow morning" because that's too broad and will most likely end in you saying "I ran out of time".
2. Drink Water
Although you may usually start your day off with a caffeine hit, leave it until after you've finished working out. Instead drink 2 glasses of water as this will keep you hydrated throughout your routine. You will find that as you start to workout you will wake up naturally and adding coffee to your routine can leave you dehydrated.
3. Change Your Alarm
Setting your alarm to wake you up with a loud shrilling tone isn't the nicest way to start your morning and can leave you feeling grumpy. So change it to something that will nicely wake you up from your sleep, that way you are more likely to get up feeling motivated and ready to go.
4. Stay in your PJs
Seriously! If you are only planning on doing a light routine or only have time for a 15 minute workout then don't waste time getting dressed and instead get up and go. Cardio exercise equipment is something you can just get up and use and are perfect if your short for time. All you need to do is hop on your cardio equipment and set if for an intense 15 minute preset program.
5. Short and Sweet
You don't have to workout for 30 minutes or longer in one go. Research is showing that doing short intense bursts of exercise can actually be just as, if not more beneficial for you. So if you're short for time, plan in advance what routines and equipment you are going to use. Another good tip is to take full advantage of the preset programs on your equipment. They are there to help you reach your full potential in a short amount of time and can be customised as you go along.
We hope you find these tips useful and get you up and going in the morning.
Team Fitquip
---
Leave a comment