TRAINING TIPS FOR THE ATHLETIC BODY TYPE
By: AP On: 4 January 2019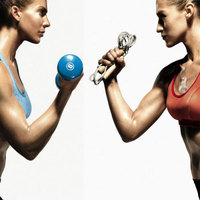 TRAINING TIPS FOR THE ATHLETIC BODY TYPE
TRAINING TIPS FOR THE ATHLETIC BODY TYPE
Not everyone wants to build mountains of muscle. Think about all of the athletes who use there bodies as the primary resistance. Large muscles on a gymnast would greatly effect there ability to perform properly. So how do you tone and strengthen your muscles without creating mountains?
Lift Heavy
Lifting heavy weights of (> 90% 1RM) will help improve strength. To achieve this, although the weight is heavy the aim is to move the weight as fast as possibly to get the most out of your muscles before they fatigue. This means performing squats, dead lifts, presses and pulls.
Lift Fast
Loads of weight around 60% 1RM should be moved as fast as possible. This means bands, chains, medicine balls throws, kettle bellsswings, speed dead lifts, speed bench and box squats. By doing these exercises as quickly as possibly you are teaching your body power development and acceleration.
Cut the Sets
When doing weight training you are told to repeat the sets, increase the weight and workout 5 times a week. However as you are not looking to build weight, you can cut the sets down to 2-3 and workout 4 to 5 times a week. Instead of focusing on the weight and sets you need to focus on speed. This way you are cutting the chance of muscle growth and teaching your body strength.
Plyometrics
Also known as jump training, involves hoping and jumping exercises. The purpose behind jump training is to teach your body to make the most out of its stored elastic energy and produce stronger contractions. This also improves muscle stiffness and helps agility and speed. Jump training can be incorporated into your weight training, however don't treat it like a circuit as you can experience fatigue which will decrease your jump performance.
Using the above tips you can incorporate fast interval training, which will increase your strength and agility levels.
Team Fitquip
---
Leave a comment