SHOULD I BE SORE EVERY TIME I WORKOUT
By: AP On: 4 January 2019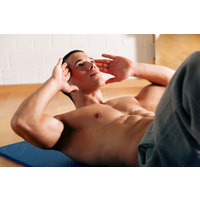 SHOULD I BE SORE EVERY TIME I WORKOUT
SHOULD I BE SORE EVERY TIME I WORKOUT
Muscle soreness is something that occurs after strenuous strength or cardio workouts. Here we will discuss why it occurs and how often it should occur.
Why am I sore?
Essentially when you workout, you break down and tear muscle fibres which, as your body recovers become stronger. This occurs when you have overloaded or performed strenuous lifting exercises. Delayed onset muscle soreness (DOMS) usually occurs at least 24-28 hours post exercise. Soreness is common after the first few workouts and shouldn't last more then a few days.
Although sore muscles can be an indicator of a hard workout, it doesn't necessarily mean it was a good workout. Generally when you start off a new workout routine you will experience muscle soreness because your body isn't used to those exercises and you haven't learnt your workout limit. Soreness is your body telling you it needs time to recover before your next workout. Although soreness is normal it is not necessary to push yourself to soreness every time.
Change Routines
If you have set a workout routine, you will notice that after a few weeks your body wont hurt so much. This is because your body adapts quite quickly. It is important that every few weeks you change your routine, increase your weight load, increase your sets and reps and change the rest times.
Reduce Soreness
To reduce the post workout soreness you need to remember to stretch before, during and after your workout. To get your muscles bouncing back quicker you can also do a cardio warm down and a light cardio workout the following day. It's also a good idea to consume protein after your workout to aid in muscle repair.
Remember to always cater for your fitness and health needs and to stay well hydrated during your workouts.
Team Fitquip
---
Leave a comment