5 TIPS TO KEEP YOU COOL THIS SUMMER
By: AP On: 4 January 2019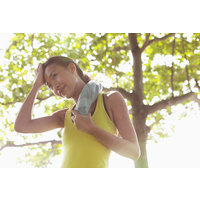 5 TIPS TO KEEP YOU COOL THIS SUMMER
5 TIPS TO KEEP YOU COOL THIS SUMMER
The only problem with summer finally being her is that it's so darn hot outside. Here are some tips to help you stay motivated and cool during your workout.
Exercise equipment isn't effected by the weather.
Which means you can workout even if it's boiling outside. If the room you are working out in however is hot, turn the air conditioner on at least 15 minutes before you workout to cool the room down. Don't have an air conditioner? A portable or roof fan will work just as well in keeping you cool.
Keep an eye on your heart rate
In the hotter weather your body has to work harder, which means you're easily at risk of fatigue, heat exhaustion or heat stroke. To help prevent this tone your workout right down and take regular breaks. A way of assessing if you are pushing yourself to hard is by singing a song. If you have to take a breath every three or six words, you should stop and cool down.
Check the map
If you are planning on working out outside, think about if your usual spot will be covered in sun. If it is, think about a shadier spot you can use or an alternate route.
Adjust your body temperature
Before your workout hop into a cold shower to cool down. Studies have shown that your body performs better in hot weather if you cool down before a workout because it lowers your heart rate along with your core and skin temperature. But if your not too keen to hop into a cold shower, using an ice pack on your neck and head can also do the trick.
Cool down using essential oils
Using a few drops of peppermint or eucalyptus oil on your neck and temples before or after your workout can provide a cooling effect. This is also great as it opens up your sinuses, so you can breathe easier during hot humid days. Research has also found that essential oils can also benefit your usual workout performance and help you run harder for longer.
We hope you stay cool this summer with these summer tips. Remember to drink plenty of water and only you can asses how hard to push yourself.
Team Fitquip
---
Leave a comment