STAY FOCUSED THIS HOLIDAY SEASON!
By: AP On: 4 January 2019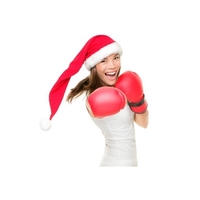 STAY FOCUSED THIS HOLIDAY SEASON!
STAY FOCUSED THIS HOLIDAY SEASON!
December can be a crazy time of year and it's easy to get caught up in the hustle and bustle of the season. Below are a few tips to keep you fit and happy during this busy time.
Enjoy
Christmas and New years are all about celebrating with your loved ones and having a good time. This means you are more likely to find yourself consuming a lot more calories. To help stop this try and eat meals which fulfil your hunger needs for longer. This will stop you munching through out the day and will help you eat only as much as you need.
Relax
Don't stress and obsess about your fitness and nutrition during the holidays. You want to be able to enjoy the holiday season and stress doesn't help. If you miss a training session just get back on track the next scheduled workout and make a mental note to be better next time.
Focus
Focus on your daily behaviour instead of your long term goal. If you can't do your usual hour to half an hour workout then break it up into small bursts of exercise, or increase your physical activity while doing chores around the house.
Rest
If you are tried but feel guilty for not working out, go to bed. Sleep is far more important and you are far more likely to cause fatigue if working out tired. If you do workout before bed, research has shown that your body takes at least an hour to calm down after a workout. So try and plan it as far away from bedtime as possible. Remember to aim for 7- 8 hours rest per night.
We wish you a Merry Christmas and a Happy New Year!
Team Fitquip
---
Leave a comment