ABS ARE MADE IN THE KITCHEN
By: AP On: 4 January 2019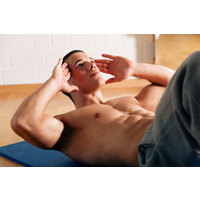 ABS ARE MADE IN THE KITCHEN
ABS ARE MADE IN THE KITCHEN
Why does it seem that the areas most people want to target, are the hardest to trim down? Unfortunately one of those areas is your abs and this is because abs really are made in the kitchen.
We actually all have a mythical six-pack!
The trouble is that it's buried under layers of body fat that cover our abdominals. A lot of people believe that by doing 1000 crunches and abdominal exercises everyday they will create a six pack. But unfortunately that is not completely true. Sure by doing crunches you are strengthening your abdominal muscles but that is it. Until you shed the unwanted body fat you wont be able to see them.
Diet + Exercise = Abs!
Exercise builds abdominal muscles and promotes muscle growth, which is only 50% of the equation. Diet is a massive factor to loosing weight and is the other 50% of the equation. Changing your diet should be about choosing the healthy options a majority of the time over the bad foods. When you start to exercise, your metabolism will increase which means your body will crave foods that will aid in the repair of muscle tissue. By choosing the right foods you are helping your body keep the kilos off, while promoting a lean figure.
The work involved!
Once your overall fitness has increased you can perform ab isolation exercises like, sit ups, planks/ crunches, side crunches and so much more. If you perform ab exercises at least 3 times a week it is a good start to strengthening and toning your abdominal muscles. Remember to never pull your neck forward to propel yourself during ab exercises, because you will hurt yourself. While you are trying to focus your attention on your abdominals you need to first shed the body fat. To do this you need to start a high intensity cardio based interval training.
We have hope this article has informed you on how to create the perfect six pack. More information on interval training and diet can be found on our website.
Team Fitquip
---
Leave a comment