GET MOTIVATED
By: AP On: 4 January 2019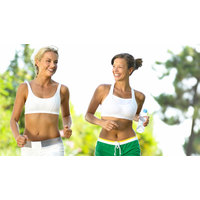 GET MOTIVATED
GET MOTIVATED
Exercise is one of those things we all know we should do because of all its great health and weight loss benefits. But just because we know exercise will do all of these great things, doesn't mean we can always find the motivation to do it. Believe it or not just knowing that you need to do exercise is the beginning of a great start. No matter what your fitness goal is we all need to start at the same point.
Motivation isn't something you can just pick up one day. It is something that you need to teach and push yourself to do. I'm telling you, if you're waiting to one day wake up and feel motivated enough to go for a run then you are likely to be waiting a while. A good tip is to stop whatever you are doing and just run on the spot or around the house for a few minutes. Sure this may not help your fitness goals but it will train your brain to run even when you don't "feel" like it. This is just something to start off with.
Self Motivate!
If you are one of those people that prefers to workout after work but then find yourself sitting on the couch and not getting up then why not try this? Before you go to work, place your workout clothes in a place you will see them when you get home. Then when you get home, it will be the first thing on your mind. Think of it as guilt tripping yourself into something that will benefit your health.
Picture Yourself!
If you like motivational pictures and sayings, then why not find some motivational sayings and pictures, print them out and stick them on your fridge, your mirror and around your office. If you find yourself on Facebook or Twitter often then add some motivational pages. By doing these things you are keeping a positive mind which will help you stay motivated to workout.
TAKE PICTURES!
What is more motivational then comparing before and after pictures of yourself? A lot of people find it really helpful when they are starting out to take a before picture of themselves. Then at the end of 6 weeks after you have been working out regularly, take another picture of yourself and compare. Continue to do this until you have reached your fitness goal.
Run to the Beat!
Music with a great beat is a fantastic way to make working out flyby. It keeps you motivated and gives you something to focus on during those tough workouts. You can even time your workout routine to the song, or aim to keep running at high speed for a whole song.
Team Up!
My last fitness tip is pair up with a friend and make a goal to workout regularly. You can figure out what your fitness goals are and push each other to reach them. It makes working out a team effort and a lot more fun.
All it takes is baby steps and before you know it, working out will be as routine as brushing your teeth. You don't have to push yourself to breaking point every time you workout. Just take it at a pace you are comfortable with and after a while, you will start to push yourself towards your fitness goals. The aching muscles and the burn you feel after a workout will be something you want to happen because it means you are making progress.
The Fitquip team wish you all the best with your exercise and fitness goals.
Team Fitquip
---
Leave a comment