THE BENEFITS OF A TREADMILL
By: AP On: 4 January 2019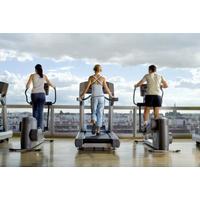 THE BENEFITS OF A TREADMILL
THE BENEFITS OF A TREADMILL
Treadmills are an efficient exercise option no matter what shape you're in. Whether you're a beginner, intermediate or advanced exerciser you can choose your speed, incline and programs to create the perfect fat-burning, cardio based workout. There are many benefits that Treadmills offer and below are some of the best.
Treadmills are designed to simulate the feeling of running on grass. To do this they are fitted with padded

running mats

and for extra support some are fitted with extra cushioning. These mats help prevent unnecessary strain and are easy on your joints.
Treadmills are fitted with

consoles

which display time, calories, heart rate and mileage, ect. This is really great as it allows you to monitor your progress which means you can get the most out of your workout.
Treadmills can be used day and night, rain, hail or shine. This means there are no excuses not to workout.
If you are short on time, then having a Treadmill at home will cut time travel to a

gym

, which means you have more time to exercise.
Working out at home allows you to keep an eye on what's going on at

home

such as children. You will save money on day care and can set them up in a place you can see and workout for as long as they stay happy.
These days Treadmills are affordable, jam packed with features and can be owned by anyone.
If you stop running on a treadmill you will fall off. If you stop running outside you just stop. Self motivating.
You can create your own running track with small to big hills and run as quickly or as slowly as you like.
There is nothing better then working out in the privacy of your own home. You don't have to worry about others around you, you can huff and puff as much as you want and don't have a time limit.
They are a long term investment and are built to last. By buying your own treadmill you are saving money on expensive gym fees.
For more information on the benefits of a Treadmill contact the Fitquip Team.
Team Fitquip
---
Leave a comment