WHY YOU SHOULD OWN DUMBBELLS!
By: AP On: 4 January 2019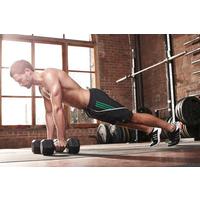 WHY YOU SHOULD OWN DUMBBELLS!
WHY YOU SHOULD OWN DUMBBELLS!
Dumbbells are basically a shorter more versatile version of the barbell, which vary from 5-inches to 14-inches long. The beauty of dumbbells is there really isn't much you can't do with them. The advantages of dumbbells over barbells are:
They strengthen both sides of your body equally, which forces you to perfect your form on both your weak and strong side.
You have a wide variety of exercises for example – front raises and flies, which you can't do with a barbell.
They can be used as a set or 1 on its own. The benefits of this is if you have injured your right hand, you can still lift weights with your left. Once your hand starts to heal you can gradually add light weights to re-strengthen your muscles until you are back to your original weight.
Dumbbells are available as an adjustable set where you can add more or less weight or you can get permanently fixed dumbbells. Permanently fixed dumbbells are often found to have steel or rubber ends.

Rubber

ends are a lot more comfortable and can prevent hand strain.
For the best weight loss and fitness results weight training should be incorporated into your workout daily. You can set up a dumbbell routine to target different areas of your body and to keep your workout varied. If you can't afford to buy a lot of new weight equipment then dumbbells are one of the most economical choices. Additionally dumbbells can be taken away with you while you are travelling and they can be put away easily and don't take up much room.
We hope this information has been informative. If you have any further questions feel free to contact the Fitquip team.
Team Fitquip
---
Leave a comment